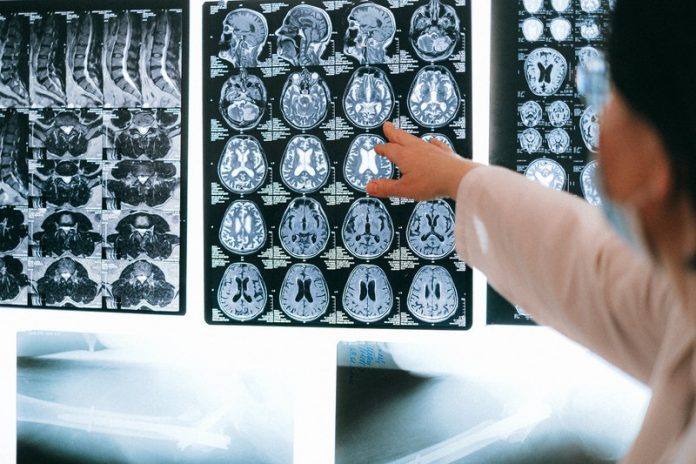 Alzheimer's disease is progressive and may emerge in the brain 20 to 30 years before diagnosis.
It is therefore very important to pinpoint biomarkers—that is, physical and detectable signs of the disease—and to better understand the initial effects on the brain.
In a recent study published in Alzheimer's & Dementia: Diagnosis, Assessment & Disease Monitoring, researchers found that abnormally hyperactive areas in the brain may help better predict the onset of Alzheimer's disease.
They found that abnormal activation in these areas may be observed many years before diagnosis.
This suggests hyperactivation could be an early biomarker of Alzheimer's disease.
The study is from Université de Montreal. One author is psychology professor Sylvie Belleville.
In the study, the team examined brain activation in groups of individuals at a high risk of developing Alzheimer's disease who had performed a memory task while being scanned with an MRI.
One group consisted of 28 people who were concerned about their memory but who did not show cognitive impairments on traditional clinical tests. The other group included 26 people with mild cognitive impairments.
The researchers found that the people in the first group, or those with memory complaints but who did not show objective cognitive impairments, had abnormally high levels of activation in multiple key regions of the brain affected by Alzheimer's disease.
People with mild cognitive impairments, who are considered to be at a more advanced stage of the disease, tended to show decreased activation in these brain regions.
The team says hyperactivation could therefore represent one of the first signs of Alzheimer's disease.
This form may characterize the underlying pathological process and help doctors determine the stage of the disease.
When combined with other indicators such as blood work and cognitive tests, this type of neuroimaging test could help with possible earlier detection.
If you care about Alzheimer's disease, please read studies about this diet may prevent or even reverse Alzheimer's disease and findings of this blood pressure problem may increase Alzheimer's disease risk.
For more information about Alzheimer's prevention and treatment, please see recent studies about this treatment of Alzheimer's disease shows promising results and results showing a new way to detect Alzheimer's disease 5 years before its onset.
Copyright © 2021 Knowridge Science Report. All rights reserved.