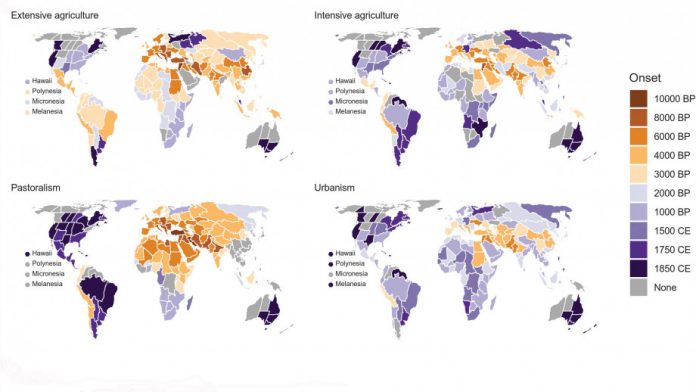 Archaeologists have identified with unprecedented precision the turning point when humans began to transform the Earth beyond recognition, tracing it to around 3,000 years ago.
The study is the first of its kind to provide a comprehensive global assessment of land use from 10,000 years ago.
Study co-author Associate Professor Tim Denham from ANU said the study provided detailed world maps for land uses including forms of agriculture, pastoralism, foraging and urbanism in time-slices from 10,000 years ago to 1850.
"Our work has documented the long-term history of how humans have increasingly put their own advancement ahead of the environment's long-term well-being; a trend that continues today," said Associate Professor Denham from the ANU School of Archaeology and Anthropology.
The aim of the study is to better understand early land use as a driver of long-term global environmental changes, including deforestation and climate change.
Associate Professor Denham said agriculture and widespread pastoralism had started to transform and degrade environments on a global scale thousands of years ago, much earlier than had often been portrayed.
"Too much emphasis has been placed on recent historical periods, such as that following the Industrial Revolution, as a marker of the Anthropocene," he said.
"Although the Industrial Revolution represents a huge step-change in terms of human-caused climate and environmental change, large-scale deforestation and drainage of wetlands had already transformed the Earth quite dramatically thousands of years earlier."
The results of the study are published in Science.