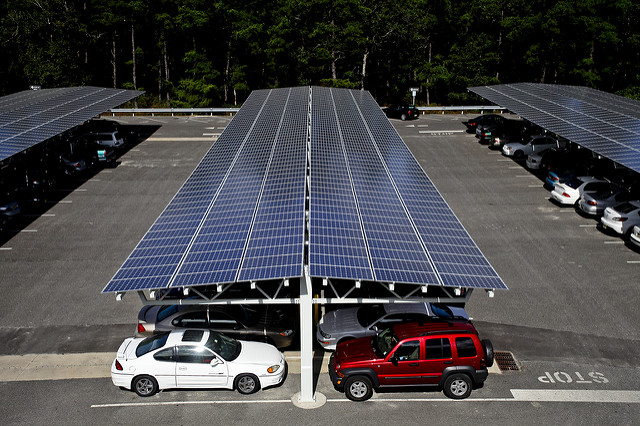 Renewable energy is seen as the major solution for the increasing electricity demand and environmental sustainability. In the transport sector, the most promising way to achieve the same goal is to replace traditional vehicles with electric vehicles.
Electric vehicles can be very energy efficient and clean, as long as they charge using renewable electricity. However, they need to overcome some challenges, including short driving range, the high price, and the lack of a charging infrastructure.
The first two challenges are related to car batteries. Currently, the energy density of the batteries is steadily growing. This allows the vehicles to travel a longer distance. As for the price, Li-ion battery packs have shown an annual price reduction of 14% (e.g., from $1000 per kWh to $300).
For the charging infrastructure, one novel solution is to use parking lots to solar-charge electric vehicles. In a paper newly published in Renewable and Sustainable Energy Reviews, researchers discuss the benefits of this method.
Electric vehicles solar parking lots can be public or private held and may be installed anywhere, such as shopping centers, work places, restaurants, supermarkets, hotels, hospitals, train stations, universities, airports, highways, etc.
Typical solar carport has perpendicular or angled parking spaces, each around 12-15m2 in size. Each carport is covered by solar panels supported by an overhead structure.
In a two-row parking space, vehicles are parked front to front, with aisles in between where the electric charge stations are located. Sometimes the park is almost totally covered by solar panels to provide greater energy yield.
A less common configuration is the solar tree with tracking. The parking is laid out in islands of 4-6 parking spaces. The parking lots may be on- or- off-grid to provide PV-grid or solely PV charging.
To get charged via solar PV panels, cars need to be parked for long enough during daytime. Usually fully charge an electric vehicle can take several hours. This is achievable because in many places of the US, parking lots with public transport connections to serve commuters is between 7 am to 6 pm.
The first solar parking lots were built in California, with the aim to promoting the concept. In the parking lots, an array of 2.1 kWp of PV produces power for 7 parking spaces. In Michigan, the GM solar tree was built for the same function. In Utrecht, The Netherlands, a framework for smart electric vehicle solar charging is being planned.
Electric vehicles solar parking lots have many benefits. First, solar PV panels produce renewable electricity and hence help reduce CO2 emissions. In addition, they generate no noise or pollutants during operation.
Second, in solar parking lots, the solar panel's coverage provides shade to the cars. Shade can reduce the vehicle temperature during sunshine and protect it from sun damage, such as paintwork damage.
Third, solar parking lots can be built inside cities, particularly densely populated places. This can help more people benefit from solar power, since it is hard to build traditional solar farms in cities due to land use competition.
Fourth, solar parking lots may stimulate local employment and local economy. Customers may choose a shopping center because their cars can be shaded and charged while they shop. In addition, locally-produced solar electricity creates local jobs to install and maintain the charging infrastructure.
---
Citation: Nunes P, et al. (2016). The use of parking lots to solar-charge electric vehicles. Renewable and Sustainable Energy Reviews, 66: 679-693. doi: http://dx.doi.org/10.1016/j.rser.2016.08.015
Figure legend: This Knowridge.com image is credited to Bob Pegnato.