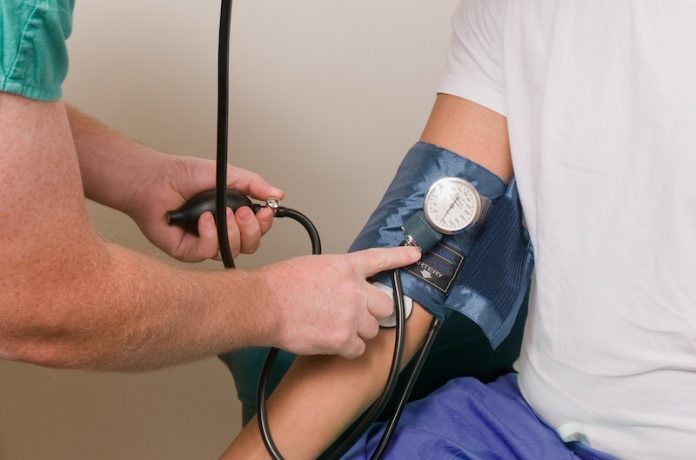 Scientists from the National University of Ireland found that people with type 2 diabetes who received intensive treatment to keep their blood pressure levels at 130/80 mm/Hg or below had fewer heart attacks, strokes and other diabetes complications.
These patients also had lower overall risk of dying from any cause—a benefit that was observed regardless of a person's pre-existing heart risk.
The study results suggest that aiming for blood pressure levels of 130/80 mm/Hg or lower can benefit patients at various degrees of baseline blood pressure elevation and with different heart risk.
The research is published in Hypertension and was conducted by J. Bill McEvoy et al.
In the study, the team analyzed data among nearly 11,000 patients with type 2 diabetes followed over 4 years across 215 clinical centers in 20 countries.
The researchers compared outcomes between moderate to high heart risk people with type 2 diabetes and high blood pressure—a condition defined as persistently elevated blood pressure—receiving anti-hypertension combination treatment (perindopril and indapamide) and people with diabetes and hypertension receiving placebo.
Both patients at higher risk for heart disease and those with lower cardiovascular risk benefitted from the more intensive treatment.
In addition, those with diabetes and with blood pressures in the 130/80 mmHg to 140/90 mmHg range before starting the trial benefited from more intensive therapy, achieving lower blood pressures during the trial.
During the study, there were 837 deaths and 966 major vascular events, a category that includes heart attacks, strokes, diabetic kidney disease, and diabetic eye disease.
The group receiving intensive blood pressure therapy experienced 9 % fewer events and 14 % fewer deaths than the group taking placebo.
These findings demonstrate the benefit of more intensive therapy aiming for blood pressure thresholds at 130/80 or below and should help resolve some ongoing confusion over optimal blood pressure targets for people with diabetes.
The team says patients, including those with diabetes, with blood pressure levels above 130/80 on two consecutive checks should discuss with their physicians whether they need a change in treatment to get to a lower number.
If you care about blood pressure, please read studies that blood pressure swings could be an early sign of heart disease, and beetroot may protect against high blood pressure.
For more information about blood pressure, please see recent studies that many people with high blood pressure use drugs that worsen it, and results showing sometimes, the best treatment for high blood pressure is to wait.
Copyright © 2022 Knowridge Science Report. All rights reserved.