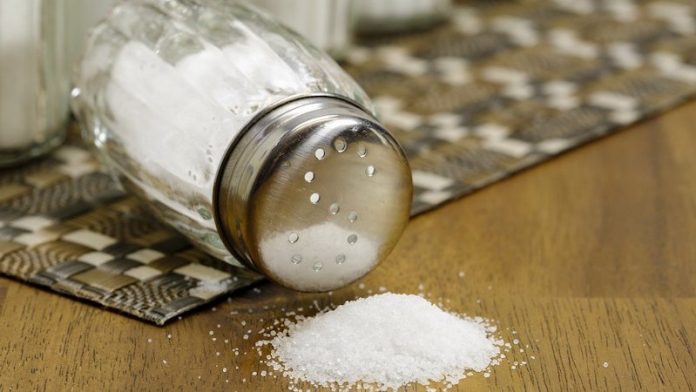 A new study from the University of New South Wales found among individuals with prior stroke or uncontrolled high blood pressure, replacing regular salt with a salt substitute is a cost-saving intervention for reducing the risk for stroke.
The study is published in Circulation and was conducted by Ka-Chun Li et al.
In the study, the team analyzed data from the randomized Salt Substitute and Stroke Study (20,995 participants followed for a mean of 4.7 years).
They assessed the cost-effectiveness of replacing regular salt with a reduced-sodium added-potassium salt substitute.
The researchers found that replacing regular salt with salt substitutes reduced the risk of stroke. The average costs were lower in the salt substitute group.
For prevention of stroke as well as for quality-adjusted life-years gained, the intervention was dominant (better outcomes at lower cost).
These findings were persistent, except when the price of salt substitutes increased to the median and highest market prices identified in China.
The team says salt substitution is the only salt reduction intervention with grade 1 evidence demonstrating cost-saving protection against clinical events and should now be considered by all countries planning or implementing sodium reduction campaigns.
Sign up for our newsletter for more information about this topic.
Previous research found that for older people, eating less salt could mean a larger fall in blood pressure.
A study by the George Institute for Global Health and published in the British Medical Journal found for older people and those who already have high blood pressure, the effect is even greater.
The study also found that if you reduce your salt intake for longer, you're likely to see a larger fall in your blood pressure.
High blood pressure is one of the biggest contributors to premature death from stroke or heart disease and too much salt in the diet is one of the major culprits.
At about 9g per day, the average salt intake in Australia is almost double WHO recommendations (5g per day). Worldwide, excess salt intake is estimated to cause about three million deaths each year.
While there was consensus among health and scientific organizations about reducing salt intake in the general population, some have proposed that it has little value for those with normal blood pressure.
This study conducted the most up-to-date review of studies that examined the effect of reducing salt intake on blood pressure.
The findings showed the benefits of lowering salt intake are seen across the board, but if you're older and already have high blood pressure—and are therefore at greater risk of associated conditions such as stroke and heart disease—there is an even greater effect on blood pressure from the same amount of salt reduction.
The effects of salt reduction were more evident at higher blood pressure levels, older ages, and among non-white populations, but almost every population group examined achieved a reduction in blood pressure.
More importantly, salt reduction in people with normal blood pressure could potentially prevent or delay the development of high blood pressure with age.
The findings added more weight to the argument for reducing population-wide salt intake as a key public health strategy to lower blood pressure and reduce the risk of strokes and heart disease.
If you care about stroke, please read studies about what are ideal blood sugar levels for preventing repeat strokes, heart attacks, and this healthy habit can lower risks of stroke and heart rhythm problems.
For more information about stroke, please see recent studies about therapy that could boost recovery from stroke and dementia, and results showing these 3 common prescribed drugs may increase stroke risk by 60%.
Copyright © 2022 Knowridge Science Report. All rights reserved.