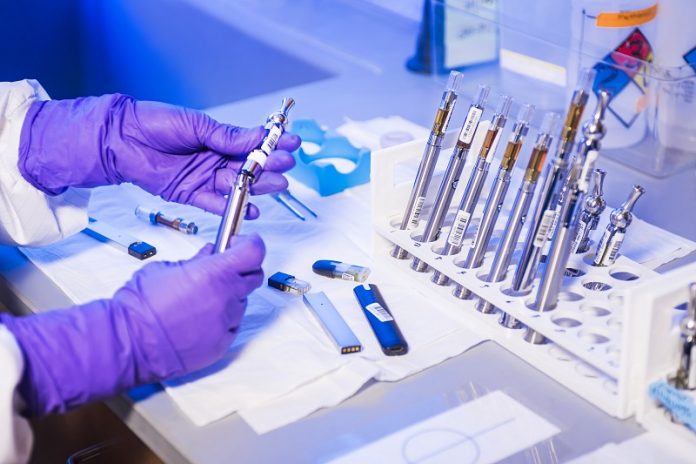 While conventional cigarette smoking is an established risk factor for osteoporosis and osteoporotic fracture, the effects of electronic cigarette (e-cigarette) use on bone health have not previously been studied.
In a new study from UPMC Pinnacle, researchers found that e-cigarette use was associated with a higher prevalence of fragility fractures.
They tested over 5,500 adult e-cigarette users across all age groups. Their findings suggest that e-cigarette use may be detrimental to bone health even in young adults.
Fragility fractures are defined as a composite of self-reported fracture of the hip, spine, or wrist that resulted from minimal trauma such as a fall from standing height or less.
Because of their attractive design and vapor delivery system, the use of e-cigarettes has gained increasing popularity.
Since their introduction over a decade ago, e-cigarettes have been marketed as a healthier alternative and an aid to conventional cigarette smoking cessation.
E-cigarettes contain a combination of propylene glycol, vegetable glycerin and variable levels of nicotine and additives, generating flavored vapor.
In the study, the team used a sample of more than 5,500 American adult men and women, they studied the association between e-cigarette use and fragility fractures.
There were 4,519 (81.2%) never e-cigarette users, 1,050 (18.8%) ever e-cigarette users, and 444 (8.0%) with self-reported fragility fractures.
Results showed a higher prevalence of fragility fractures among e-cigarette users compared to non-users.
Researchers also found that individuals who used both conventional and e-cigarettes had a higher prevalence of fragility fractures compared to conventional smokers alone.
The prevalence of e-cigarette use is highest in the 18-25 years age group in the United States.
Therefore, this study suggests that young e-cigarette users may be increasing their risk of osteoporotic fractures over time.
The researchers, therefore, recommend that doctors should consider e-cigarettes as a potential risk factor for fragility fracture and include risk for the fracture to the potential negative consequences of e-cigarettes.
The study is published in the American Journal of Medicine Open. One author of the study is Dayawa D. Agoons, MD, MPH.
Copyright © 2021 Knowridge Science Report. All rights reserved.