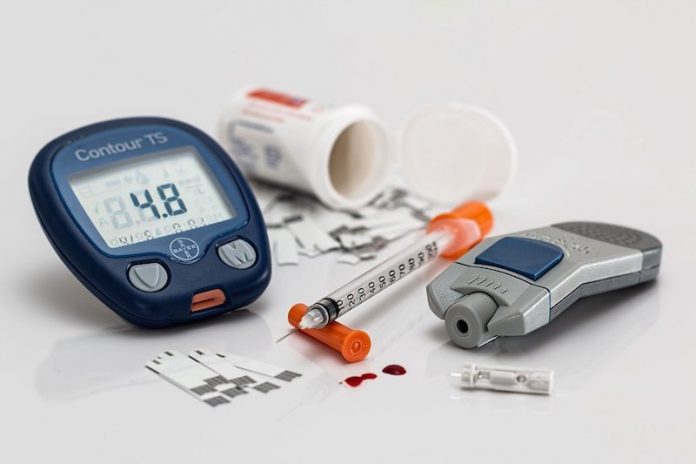 Sitagliptin, an oral drug, is prescribed to 15% to 20% of patients with type 2 diabetes.
It was approved by the FDA in 2006 and lowers blood sugar by blocking the receptor for the enzyme DPP-4, causing an increase in insulin production.
In a recent study at Boston Children's Hospital and elsewhere, researchers found that sitagliptin also improves survival in diabetic patients with COVID-19.
Patients given sitagliptin in addition to insulin had a death rate of 18% as compared with 37% in patients receiving only insulin.
The researchers think it's reasonable to try sitagliptin if a patient is admitted to the hospital with type 2 diabetes and COVID-19.
Based on sitagliptin's mechanism of action, they believe it could also work in non-diabetic patients with COVID.
The study is published in Diabetes Care. One author is Paolo Fiorina, MD, Ph.D.
Recent studies suggest that DPP-4 may also help SARS-CoV-2—the coronavirus that causes COVID-19—get into respiratory cells.
In addition to blocking DPP-4, the drug sitagliptin has anti-inflammatory effects, reducing the production of the cytokine IL-6, which is known to contribute to the "cytokine storm" that can cause organ complications in COVID-19.
Sitagliptin may also have a third benefit: keeping blood sugar down. Previous studies have shown that diabetic patients with worse glycemic control have worse COVID-19 outcomes.
In the study, the team enrolled 338 patients with type 2 diabetes and COVID-19 pneumonia who were admitted to seven academic hospitals in northern Italy.
Of these, 169 were given only IV insulin for their type 2 diabetes (the standard of care) and served as controls; the other 169 received sitagliptin in addition to IV insulin.
The team found that compared with the controls, patients receiving sitagliptin had reduced mortality (18% vs. 37%) and were more likely to improve clinically.
Specifically, patients treated with sitagliptin were: less likely to need mechanical ventilation; less likely to need intensive care; more likely to have at least a drop of disease severity; and less likely to have a worsening of clinical outcomes.
The researchers say they will confirm these findings in a new study. The new trial will enroll patients in Italy and elsewhere in Europe.
Copyright © 2020 Knowridge Science Report. All rights reserved.