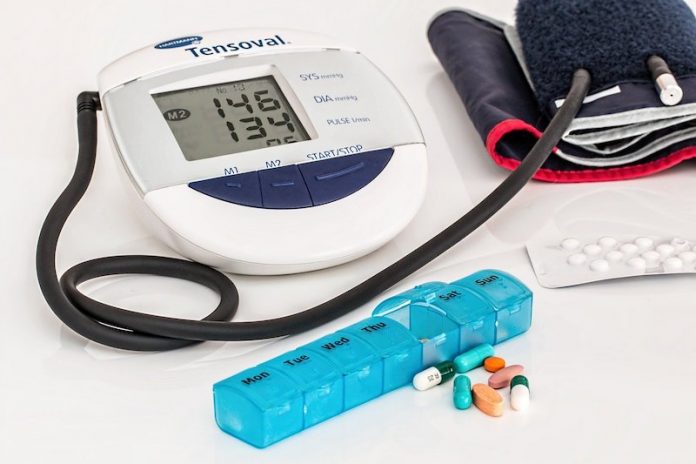 In a new study, researchers found hydrochlorothiazide—one of the most prescribed high blood pressure drugs in Australia—has shown links to increased risks of developing skin cancer among older people.
The drug contains photosynthesising properties, which can make the skin more sensitive to the sun.
The findings are based on a big data analysis of skin cancer rates in a case-control study among older Australians. The results support similar findings from previous international studies.
The research was conducted by a team at UNSW Sydney.
High blood pressure—or hypertension—is a chronic illness affecting more than a third of Australians over the age of 18.
If left untreated, hypertension can lead to serious health conditions, like stroke and heart disease.
Management of the illness generally requires prescribed medicine, like hydrochlorothiazide, alongside lifestyle changes, like eating a healthier diet and getting regular exercise.
The data for this research was provided by the Department of Veterans' Affairs (DVA).
It included de-identified information about cancer registrations, hospitalisations, and medicine dispensing for DVA healthcare cardholders (aged 65 and over) who lived in NSW between 2004 and 2015.
The researchers compared hydrochlorothiazide use in people who had been diagnosed with lip cancer (45 cases) or malignant melanoma (659 cases) compared with those with neither diagnosis (13,300 controls).
They found an increased risk for developing malignant melanoma and squamous cell cancer of the lip (lip cancer) with hydrochlorothiazide use.
For lip cancer, the risk also appears to be cumulative—that is, the longer that hydrochlorothiazide is used, the higher the risk of developing lip cancer.
The researchers don't want anyone to suddenly stop taking hydrochlorothiazide out of fear of developing skin cancer.
They say the skin cancer risk is something for prescribers to be aware of.
Doctors may want to consider conducting more skin checks for their patients or reinforcing advice around sun-smart behaviors that everyone should be aware of, like adequate protection when UV is higher than three and avoiding sun exposure during peak UV times.
To reflect this newly understood risk, the product information—that is, information that helps health professionals in prescribing medicine—has been updated for medicines containing hydrochlorothiazide.
Australia has one of the highest rates of skin cancer in the world, according to Cancer Council. Roughly two in three Australians will be diagnosed with skin cancer by the time they're 70 years old.
While the link between hydrochlorothiazide and an increased risk of skin cancer has been found in recent research from the UK, Denmark, and U.S., this is the first time it's been shown in Australia.
One author of the study is Dr. Benjamin Daniels.
The study is published in Basic & Clinical Pharmacology & Toxicology.
Copyright © 2020 Knowridge Science Report. All rights reserved.