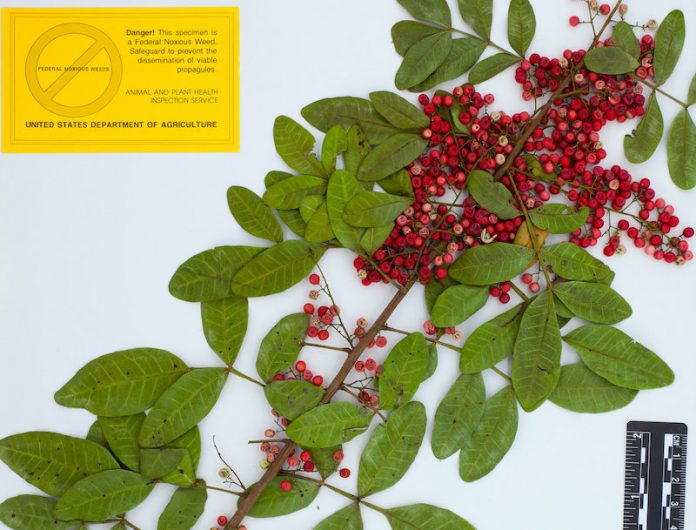 In a new study, researchers have found compounds from the Brazilian Peppertree—a weedy, invasive shrub in Florida—that reduce the virulence of antibiotic-resistant staph bacteria.
They found that triterpenoid acids in the red berries of the plant "disarm" dangerous staph bacteria by blocking its ability to produce toxins.
The research was conducted by a team at Emory University.
The Brazilian Peppertree (Schinus terebinthifolia), native to South America, is also abundant in Florida, where it forms dense thickets that crowd out native species.
The Centers for Disease Control and Prevention calls antibiotic resistance "one of the biggest public health challenges of our time."
Each year in the U.S., at least 2.8 million people get antibiotic-resistant infections, leading to more than 35,000 deaths.
Even in the midst of the current viral pandemic of COVID-19, scientists can't forget about the issue of antibiotic resistance.
Many COVID-19 patients are receiving antibiotics to deal with secondary infections brought on by their weakened conditions, raising concerns about a later surge in antibiotic-resistant infections.
In the study, the team examined 27 major compounds from the berries to isolate the specific chemicals involved in disarming the bacteria MRSA.
The results showed that three triterpenoid acids worked equally well at inhibiting MRSA from forming toxins, without harming human skin cells.
And one of the triterpenoid acids worked particularly well at inhibiting the ability of MRSA to form lesions on the skin of mice.
The researchers also showed that the triterpenoid acids repressed not just one gene that MRSA uses to excrete toxins, but two genes involved in that process.
The team says weeds tend to have interesting chemical arsenals that they may use to protect them from diseases so they can more easily spread in new environments.
The research team plans to do further studies to test the triterpenoid acids as treatments for MRSA infections in animal models.
If those studies are promising, the next step would be to optimize the compounds for efficacy, delivery and safety before testing on humans.
The lead author of the study is Cassandra Quave, an assistant professor at Emory University's Center for the Study of Human Health.
The study is published in Scientific Reports.
Copyright © 2020 Knowridge Science Report. All rights reserved.