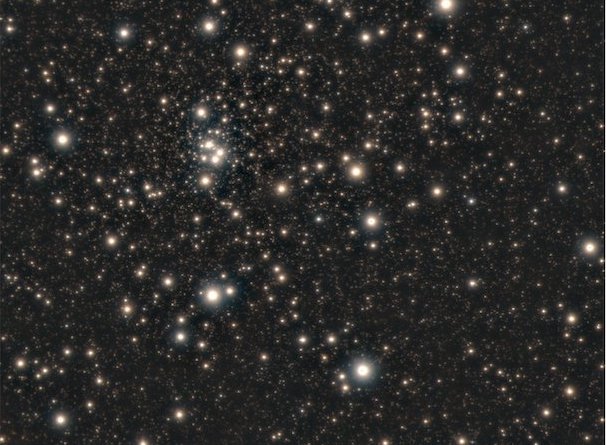 In a new study, researchers uncovered one of the oldest star clusters in the Milky Way Galaxy using high-resolution adaptive optics imaging from the Gemini Observatory.
The new finding could provide new information about the early history of the Universe and help find how our Galaxy formed.
The research was conducted by researchers from the Universidade de São Paulo and Universidade Estadual de Santa Cruz, Brazil.
The is Gemini Observatory an astronomical observatory consisting of two 8.1-meter (26.6 ft) telescopes, Gemini North and Gemini South.
The two telescopes are located at two separate sites in Hawaii and Chile, respectively. They provide almost complete coverage of both the northern and southern skies.
The current finding is from Gemini South, the telescope in Chile.
In the current study, the team used the exquisitely deep high-resolution adaptive optics images from Gemini South and archival optical images from the HST to find faint cluster members.
They examined a cluster of stars known as HP 1. The team dated this cluster at about 12.8 billion years, which makes these stars among the oldest ever found in our Galaxy.
According to the researchers, globular clusters can tell much about the formation and evolution of the Milky Way.
For example, most of these ancient and massive globular clusters have coalesced out of the primordial gas cloud that later collapsed to form the spiral disk of our Galaxy.
Other globular clusters may be the cores of dwarf galaxies consumed by our Milky Way.
Among the clusters within the bulge, those that are lacking in heavier elements have long been suspected of being the oldest.
HP 1 is one of them. It may serve as an excellent tracer of our Galaxy's early chemical evolution.
The team found that HP 1 is a fossil relic born less than a billion years after the Big Bang when the Universe was in its infancy.
The researchers suggest that new finding could help determine the ages of some of the oldest stars in our Galaxy.
The finding also shows the development of wide-field, high-resolution imaging at Gemini is key to the Observatory's future.
One author of the study is Leandro Kerber of the Universidade de São Paulo and Universidade Estadual de Santa Cruz.
The study is published in Monthly Notices of the Royal Astronomical Society.
Copyright © 2019 Knowridge Science Report. All rights reserved.