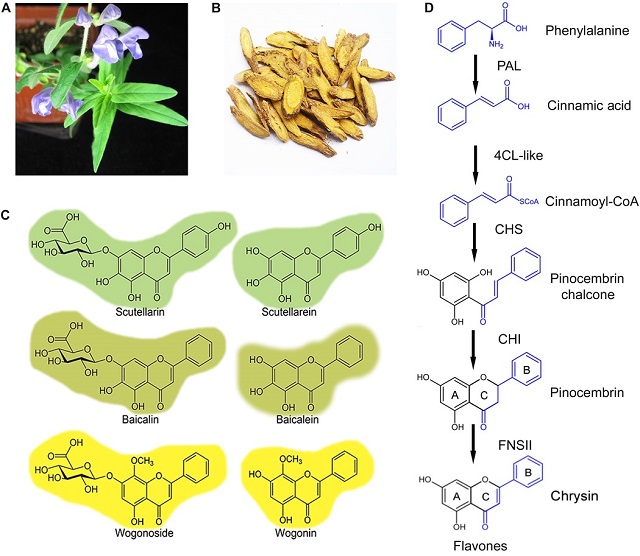 In a recent study, scientists find that bioactive flavones in the popular Chinese herb remedy Huang-Qin can be used to make anti-cancer compound. The finding is published in Science Advances.
Researchers from Chinese Academy of Sciences, John Innes Centre in the UK, Tianjin University in China, CAS-JIC Centre of Excellence for Plant and Microbial Sciences in China, Massachusetts Institute of Technology, and Shanghai Chenshan Botanical Garden in China conducted the research.
Past research has shown that certain bioactive flavones, found in the roots of Huang-Qin, have beneficial anti-viral and anti-oxidant effects. Huang-Qin is traditionally used in treatment of fever, liver and lung diseases.
Moreover, they can also kill human cancers while leaving healthy cells untouched. In mouse tumor models, these compounds can also inhibit tumor growth.
In the study, researchers described a new pathway for the synthesis of these compounds, in which one special flavone, pinocembrin, (a 4′-deoxyflavanone) serves as a key intermediate.
Researchers suggest that this biosynthetic pathway has evolved recently in the plant roots, diverging from the classical pathway that produces flavones in leaves and flowers, specifically to produce chrysin and its derived flavones.
In addition, understanding the pathway should help people produce these special flavones in large amounts, and this will enable further research into their potential medicinal uses.
---
Citation: Zhao Q, et al. (2016). A specialized flavone biosynthetic pathway has evolved in the medicinal plant, Scutellaria baicalensis. Science Advances, 2: e1501780. DOI: 10.1126/sciadv.1501780.
Figure legend: This Knowridge.com image is credited to Zhao Q et al.