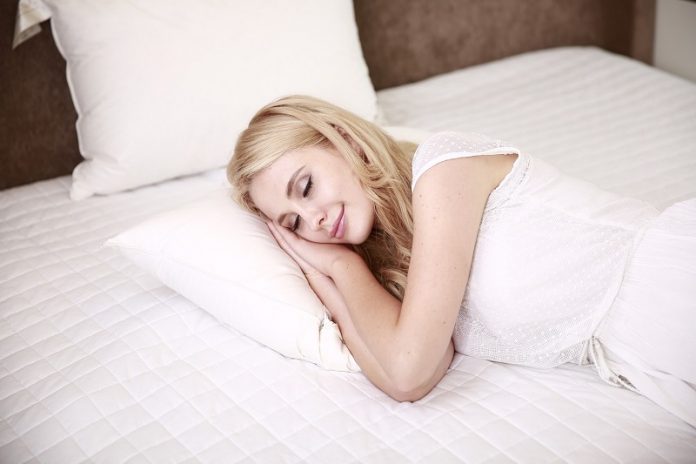 In a new study from Stanford, researchers found drug daridorexant (50 mg) improves both nighttime symptoms and daytime functioning in people with insomnia disorder.
They conducted two phase-3 clinical trials at 156 sites in 17 countries.
Daridorexant, sold under the brand name Quviviq, is a medication used for the treatment of insomnia.
In the research, the team assigned 930 adults with insomnia disorder to receive either daridorexant (50 mg, 25 mg) or placebo in study 1 and 924 adults to receive either daridorexant (25 mg, 10 mg) or placebo in study 2 every evening for three months.
The researchers found that in study 1, wake time after sleep onset and latency to persistent sleep (LPS) were strongly reduced among participants in the daridorexant 50-mg group.
Similar results were seen among those receiving daridorexant 25 mg versus the placebo group.
The daridorexant 50-mg group also had strongly improved total sleep time and less insomnia daytime symptoms at month 1 and month 3.
However, the daridorexant 25-mg group only saw strong improvements in total sleep, not in insomnia symptoms.
In study 2, wake time after sleep onset was strongly reduced in the daridorexant 25-mg group at month 1 and month 3.
The daridorexant 25-mg group saw big improvement in total sleep time at month 1 and month 3, but not in insomnia daytime symptoms.
No significant improvements for any measures were seen for the daridorexant 10-mg group. The overall side effects were similar between treatment groups across studies.
The team says it is exciting to see that insomnia is finally not solely viewed as a nighttime problem but as a cause of daytime suffering.
If you care about sleep quality, please read studies about foods that could help improve your sleep quality, and widely used painkillers that may harm your heart, kidneys, sleep and bodyweight
For more information about wellness, please see recent studies about common tea that may help you lose weight while sleeping, and results showing that common sleep habit may increase your heart disease risk.
The study is published in The Lancet Neurology and was conducted by Emmanuel Mignot, M.D. et al.
Copyright © 2022 Knowridge Science Report. All rights reserved.